When:
June 18, 2019 – June 23, 2019
all-day
2019-06-18T00:00:00-06:00
2019-06-24T00:00:00-06:00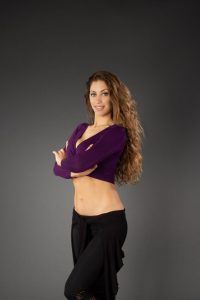 RAQS FLOW LEVEL 4
June 18-23, 2019
A continuation of Level 3, you must have passed the Level 3 exam before enrolling in Level 4.
37 hours of training / 2 hours testing / 6 hours of collective presentations
SCHEDULE:
Tuesday 10-1/2:30-6:30pm
Wednesday 10-1/2:30-6:30pm
Thursday  10-1/2:30-6:30pm (Dinner and presentations)
Friday 10-1/2:30-6:30 (Dinner and presentations)
Saturday 10-1/2:30-6:30
Sunday 10-12:00 / Testing 1:00-3:00
OVERVIEW:
LEVEL 4
Overview and topics
Examining the historical timeline of Bellydance, analysis of current context, relevance and application
Level 4 Strength training and conditioning to develop the core, enhance stamina, flexibility, balance, and well being
Level 4 Raqs Flow technique and movement vocabulary, advanced sequencing
Level 4 Raqs Sharqi technique and movement vocabulary / modern styling.
Level 4 Drills designed to enhance stamina, coordination and rhythmic consistency
Level 4 Rhythm identification, performance of a live composition playing your choice of finger cymbals, frame drum, riqq or darbuka
Study, analysis, formulation, creative process and presentation
Staging
Level 4 Advanced professional choreographies to enhance and develop "Flow"
LEVEL 4 Prerequisites
Level 3 certification
Minimum 3 page journal on your journey through Level 3. See "Journals" below
Minimum 3 page report on one modern day bellydance style/genre. Examples and ideas will be provided. See "Reports" below
Minimum 20 hours of logged practice time with Level 2 content
Minimum 10 hours or classes of Yoga, Pilates or another form of fitness training approved by Sadie.
(At least 2in person classes. See below for details)
Minimum 4 hours of training with another instructor in a "specialty topic workshop". (Must be attended in person. See below for details)
LEVEL 4 Prerequisites
Additional prerequisites are required for Level 4. Those details are disclosed in your registration packet. 
 SPACE IS LIMITED TO 14 to ensure personal 1 on 1 coaching and feedback.
RESERVE YOURS SPOT NOW:
1 FULL PAYMENT: $699
2 PAYMENTS PLAN 2x $349.50
4 PAYMENTS PLAN 4x $174.75

We are sorry but due to the exclusivity of these trainings we do not offer refunds! Under certain circumstance we can offer a transfer to another training.