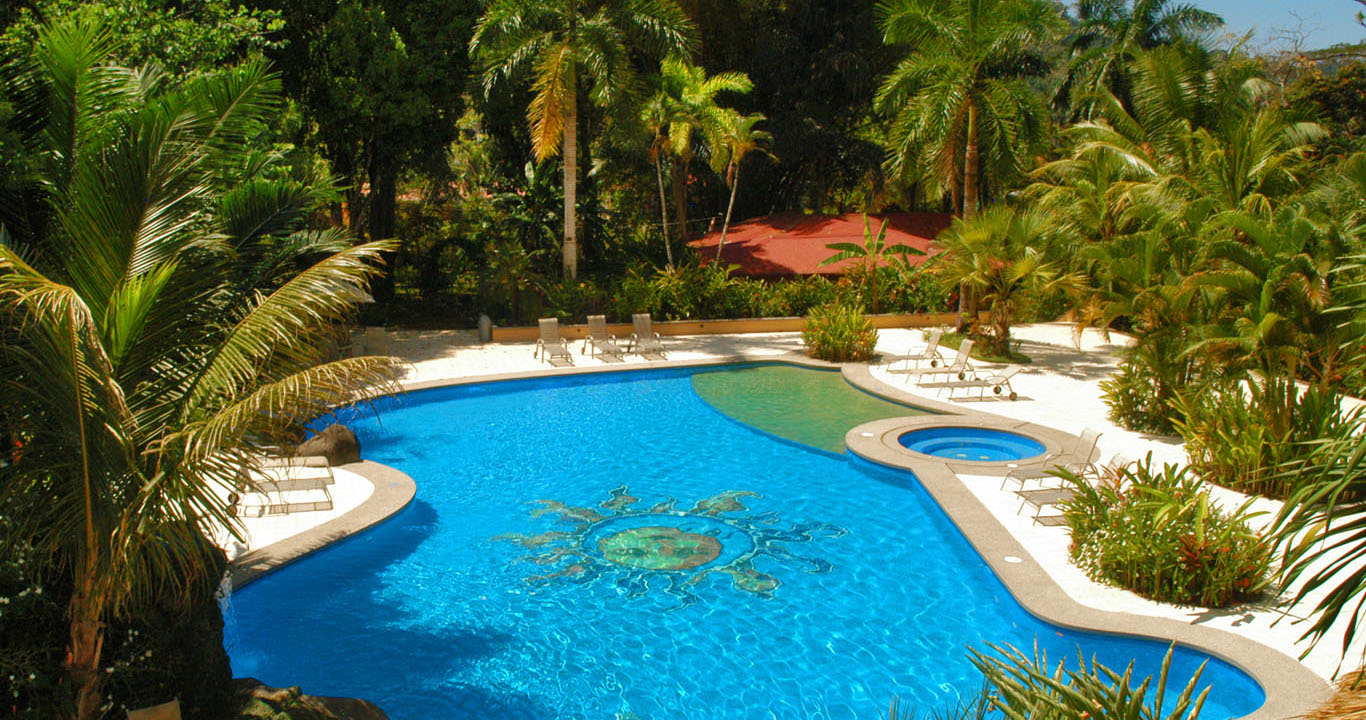 Date/Time/Location:
February 6th, 2023, 6:30pm-February 13th, 2023, 9am
Doce Lunas
Jaco 61101, Costa Rica
Check in:
Between 1:00pm and 6:00pm on Monday, February 6th, 2023. You may check in at anytime that evening as well. You may also check in earlier if you added extra days to your reservation.
Monday, Feb.6  
Doce Lunas Check in:
Settle into your space and explore the resort.
Welcome Dinner 6-7pm
Please arrive at the Pavilion by 6pm so we can all meet and enjoy our first dinner together.
Orientation in the studio at 7:00pm
Please attend the 30-minute orientation where we make our introductions and debrief important details and information about the retreat experience.
Evening Yoga 7:30-9:00pm with Anna
Tuesday, Feb.7  
Breakfast 7:30-9:30am
Free day for excursions and sightseeing, relaxing.
Lunch on your own
Dinner 6-7pm at Doce Lunas
Workshops 7:15-9:15pm Sadie Workshop "Flow"
We will open, stretch and prepare our bodies for the retreat experience with Sadie's signature techniques and combos.
Wednesday, Feb. 8th  
Breakfast 8:00-9:15am
Morning Yoga 9:30-10:30am Anna
Workshops 10:45-1pm Glenda & Naia "Ori Tahiti Dance Technique & Drills" This workshop is for all levels. Belly dancers will fit right into the groove as Glenda and Naia teach the amazing hip accents and shimmies of Tahiti!
 Lunch 1-2pm
Workshops 2:30-5:30pm Sadie "CR 2023 Performance Choreography" Performing this choreography is optional. Sadie is known for delivering professional level quality and skill while making it accessible to all levels!
Dinner 6-7pm
Party time! 7:30pm meet in the Pavilion to mingle, dance, sing, play!
Thursday, Feb.9th  
Breakfast 8:00-9:15am
Morning Yoga 9:30-10:30am Anna
Workshop 10:30am-12pm Inner Child with Debra Mittler
Connect with your most genuine essence and to the infinite joy and love inside of you. Debra has a Masters in Spiritual Psychology from the University of Santa Monica and is a trained hypnotherapist.
Workshop 12:15-1 Sadie Explosive Shimmy Workout! Get ready for an incredible, sweaty workout and all while shimmying and layering! This is a great way to prep for the Saturday night Shimmy Contest!!
Lunch 1-2
Workshops 2:30-5:30pm Ericka "Fire Drum Solo"
Ericka will add some serious heat to your drum solo. After she shows you how to handle and dance with fire safely, she will guide you on one of her award-winning drum solos combined with fire!! Ericka will have different fire implements for you to try and dance with if you do not have your own. She will also have fuel if you brought your own.
Dinner 6-7pm
8:30pm Doce Lunas Pavilion Talent Show/Hafla Sign up with Ericka ericka_zb@hotmail.com
Friday, Feb.10
Breakfast 7:00-9:00am
Workshop 9:30am-11:30am Sadie Drum Solo
Early Lunch to go 12
Beach Day or Free Day for personal excursions.
If joining for the beach day, be ready to depart Doce Lunas at 12:15pm. We will stay until about 6pm.
Dinner 6:30-7:30pm at Doce Lunas
Anna Candle Light Yoga 7:45-9:15pm
Saturday, Feb.11 
Breakfast 8:00-9:15am
Morning Yoga Anna 9:30-10:30
Workshop 10:45-12:45pm Sadie Technique Tune Up &
Performance rehearsal We will clean up and drill techniques from the performance choreography. Even if you are not performing this is a great drills class to refine your movements and level up!!
Lunch 1-2
2:15-2:45pm: Choreography rehearsal Ericka
3-6 Rest and get ready for the Hafla Beach Show!!
Dinner 6-7
7:30pm Depart Doce Lunas for the HAFLA SHOW & Beach Party!! Be ready to perform, we recommend you wear a cover up with costume under if you are performing. Bring a change of clothes to enjoy the party after. Don't forget your shimmy belt for the contest!!
Sunday, Feb 12
Breakfast 8:00-10am
10-10:30 Certificate Ceremony in studio
Workshops 10:30am-1:00pm Sadie's Combos
Lunch 1-2
Yoga Restore 2:00-3:15pm Anna
Dinner and celebration in Jaco 5:00pm Depart Doce Lunas at 5:00pm for sunset photos, dinner and shopping in Jaco. We will take taxis and/or shuttles. It is a 5-minute drive; you can head back to Doce Lunas at any time.
Monday, Feb.13th
Breakfast 7:00-9:00am
Farewell & Departures
Getting to the Retreat Center: Doce Lunas
Airport:
If you will be arriving to Costa Rica by air, you should fly into San Jose (SJO) airport. We recommend planning your trip so that you arrive in the afternoon of February 6th no later than 8:00pm (if possible of course) as it is a 1.5 hour drive to the Doce Lunas retreat center, and could take slightly longer with traffic.
Shuttle bus or car from Airport:
After arriving at San Jose (SJO) airport you must take a shuttle or drive to Doce Lunas about 1.5 hours.
Shuttle service from the airport to Doce Lunas is included in your reservation.  Please check with Doce Lunas once you have completed your travel Itinerary. Send (via e-amail) the time of your arrival and departure to and from San Jose (SJO) airport.  The closer you can get to arriving between 12-4pm, the better our chances will be to get you on a full shuttle. If there is not enough people arriving at the airport to form a group for the shuttle, there may be a surcharge. Prices each way, per person, vary.
Car:
This is a great option for those who would like to have the freedom to come and go from the retreat center as they wish. If you will be arriving to Doce Lunas by car, there is plenty of free and secure parking at the retreat location. The address to put into a gps or google maps is: "Jaco Doce Lunas".
Strangely enough they do not have street addresses in Costa Rica but google maps will pull it up for you by name.
We can also add you to a list of dancers interested in doing a carpool or car share to split the cost of a rental car.
Please know that you can easily take a taxi 5 minutes to the near city of Jaco from Doce Lunas for about $4 each way.
Please be prepared for driving in a foreign country.
What to Bring:
Please be mindful that if you will not have a rental car, you will have to rely on shuttle service, taxi or walking to get you around. Which is easy and accessible. Many of our excursions and planned activities will organize transportation for you but should you need to get to a nearby store, etc, you will need to walk 20 minutes to Jaco or take a taxi 5 minutes, about $4.00 each way (subject to change). We will have a car on location incase of any emergencies.
Check weather reports for Jaco, Costa Rica before your trip. February is known as peak season. The weather is hot and sunny!! But as with any destination, weather can always change.
Valid Passport: Travel to Costa Rica is a foreign destination and be sure your passport is not expiring.
Colones: You will want to have some local cash currency. Costa Rica uses Colones. Many shops allow payment in US Dollars but you will still want to have some local currency incase you encounter any unexpected problems. We recommend the equivalent of at least 100 USD as well as a debit or credit card in which you can draw funds from if necessary.
Dancewear: Whatever you are comfortable moving and dancing in several hours per day. Layers are a good idea is you will be very hot and times and cooler at other times. Be sure to check the weather. Costa Rica is a tropical region, there will be bugs and mosquitos.
Clothing: Make sure to bring clothes, including a jacket, for tropical weather. It will rain. Also bring appropriate attire for any planned sight seeing and excursions including bug repellant, sunscreen, hats, sunglasses, swimsuits, etc. The halfa's will be casual dress, so no need for formal wear unless you want to dress up.
Workshop props: Veils and fire implements like poi or fans. Fire props available for use but you will have to share the communal props during the workshops. Also please bring a veil for classes. Yoga mats and accessories will be provided by the resort.
Performance costume: Optional. If you would like to perform in one of the hafla's you should bring one.
Converter: Not necessary, Costa Rica is on the same system as the US.
Leisure time activities: Plan accordingly for you leisure time. There is basic wi-fi connection, free of charge, which can be used for simple browsing and checking of emails, etc.
First-Aid kit and other necessities: The resort is just a 5 minute drive or 20 minute walk from the city center of Jaco incase you need something but it is always a good idea to pack a small health kit with a few bandages, ibuprofen, feminine products or other things you may need for your health and comfort such as vitamins, sunscreen and bug repellant. Also be advised there are pharmacies and hospital in Jaco.
Doce Lunas Details:
We have chosen Doce Lunas as the perfect location for the retreat. Doce Lunas will be our private sanctuary reserved for our "Welcome to the Jungle" retreaters. It is a beautiful place located in the jungle, just off the beach near the city of Jaco. The views are phenomenal, the air is fresh and a simple one-night stay at the place would be unforgettable. You will feel whisked away ready to retreat in this tropical paradise, yet close to civilization incase you need anything. Please look through the website for all the information and accommodations of this lovely resort: http://www.docelunas.com
Also please take the time to know about travel to Costa Rica and what to expect:
https://cr.usembassy.gov
https://www.lonelyplanet.com/costa-rica
Jaco City:
Jaco is the nearest city to Doce Lunas. It is 5 minutes drive by taxi, $4 each way or 20 minutes walk. You will have access to stores, pharmacies and clinics if necessary. We will have a car on site for emergencies.
https://www.lonelyplanet.com/costa-rica/central-pacific-coast/jaco
Cancelation Policy (Subject to change at anytime, check with Doce Lunas for Updates):
– Cancellation 30 days to 5 days in Advance 75 % of the total room amount
– Cancellation 5 days to 1 day or arrival day 100% of the total room amount
Accommodations:
You will be assigned to the type of room based on the package that you purchased.
If you have already indicated whom you would like to share your room with we will arrange that or you will be randomly paired up with other retreat guests in the shared block. We have limited the amount dancers to 20 to enhance the learning and the overall experience.
Food:
As part of your stay at Doce Lunas they have prepared a very affordable meal plan for our participants. It is already included in the price of your resort reservation. If you wish to remove or add any meals you may customize your plan and reservation with Doce Lunas. The cuisine is local style with some world fusion. All meals are served buffet style with lots of great options for all. No refunds on unused food or meals. Please know that if you would like to enjoy more food than the meal plan offers, they do have a full service restaurant.
Additionally, participants will be responsible to pay for meals that are not included in the meal plan. These meals are scheduled during your "excursion days". You can purchase your meal out on these days depending on where you will be or if you choose to stay back at Doce Lunas, you can also purchase food there. They have a full service restaurant from 7:30am-10:00pm.
The resort can accommodate some dietary requests and restrictions. You will have to arrange with them in advance.
Spa Services:
Doce Lunas has a full range of spa services available. You can set up your spa services directly with the front desk staff and please give 24 hour advanced notice as therapists must travel in from town for appointments.
Excursions and Sight-Seeing:
The retreat schedule has 2 free days built in. You can join in on the retreat planned excursions or choose from a variety of excursion packages from half day to full day offered through the resort or plan your own personal get away to the beach or sight see around the many beautiful places near Doce Lunas and Jaco. You may also choose to stay at Doce Lunas to relax and take advantage of the beautiful pool and spa. We have some ideas planned for us as a group if you wish to participate or again, you may choose to adventure on your own. Here are some ideas of excursions and activities to choose from http://www.docelunas.com
The cost to do any of the excursions as well as travel expenses will be your responsibility. Please note that the lunches on these days are not included in the meal plan. You must purchase your own lunch during excursion days.
Departing from Retreat:
You must be checked out of your room by 12pm, Monday, February 13th. Unless you added extra days
Shuttle busses will begin transporting guests back to San Jose (SJO) airport in the morning. Please email us your flight itinerary. Keep in mind it is about a 1.5 hour bus ride to the airport so you want to book your departing flights accordingly.
Any other questions? Just e-mail us! sadie.bellydancer@gmail.com