Sep
20
Thu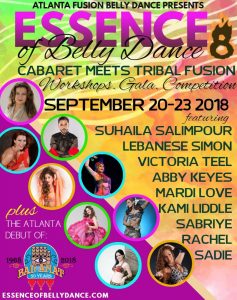 Join Sadie and an amazing lineup of instructors and performers for Essence of Belly Dance 8
Oct
10
Sat
Sadie & Jade El Jabel Present: Poetry In Motion

@ Online Zoom
Oct 10 @ 10:00 am – 8:15 pm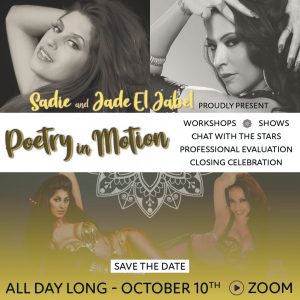 Join Sadie & Jade El Jabel | 1 Day ~ Online BellyDance Event and Party!
Theme ~ Poetry In Motion!
Jade and Sadie will offer workshops focusing on technique, drills and combinations to help you get the most out of your movement. We aim to tap into the concepts and visuals of creating dynamic shapes, accents and poetry of dance.
About
We will begin this amazing event with 4 hours of workshops. After a few short breaks we will begin our "Chat with Sadie & Jade." This Q&A is your opportunity to ask two professionals, with more than 40 years of experience, all your questions. In the security of our exclusive group, we encourage you to ask and to also share, if you watched the Live IG interview with these two, then you know what a treat you are in for!
After the Q&A we will host a private show just for our group. Sadie and Jade will perform as well as dancers from our Poetry In Motion event. If you would like to be one of the performers, purchase the "Performers Pack".
Due to this unique opportunity, we will limit the amount of performers to 15. First come first serve basis!
Each dancer in the show will receive a professional, live evaluation from Sadie and Jade after the show, if they want one. (Evaluations will focus on both the strengths of the dancer as well as a few suggestions for improvement).
SCHEDULE
Brazil / USA
1pm / 10am – 2 hrs Sadie ~ Percussive Isolations & Accents! Explore the exciting possibilities in your movements. The music will be our muse and inspire some truly Raq'n, yet poetic expressions!
3pm / 12pm 30 minutes break
3:30pm / 12:30pm – 2 hrs Jade El Jabel ~ Smooth and Sinuous! Jade will take you on an exploration of curves, moving your body in luscious and supple aways. Your own body will be your muse, as we tap into emotional, movement poetry!
5:30pm / 2:30pm – 30 minutes break
6:00pm / 3:00pm – 1.5 hrs Q&A and Chat with Jade & Sadie Ask us anything and share your beauty and wisdom! It's rare to be among a group of people willing and open to share. We are so excited to facilitate this conversation, lets inspire each other!
7:30pm / 4:30pm – 1.5 hrs Show Prep! Please be back in time to support and watch the show!
9pm / 6pm – 2 hrs "Poetry In Motion Show" All participants may join us to either watch or perform in the show. After the live show Sadie & Jade will offer evaluations and feedback to the performers who want it, followed by a closing ceremony!!
Registration 
Sign up through Sadie or Jade.
Jade will have her payment options set to the Brazilian Real and Sadie will be set up for US Dollars.
Event Options | You must select which "Pack" you want on the registration page:
"Full Pack" $55.00 USD ~ Everything is included but you choose not to perform in the show, only watch.
"Performers Pack"$70.00 USD ~ Limited to 15! Everything is included and you will perform in the show and receive an evaluation after your performance (if you want it).
SIGN UP NOW!!
Upon registration, you will receive a confirmation email. We will send out your zoom link the night before the event.